New from the farm this year, Physostegia "miss manners" is just getting started.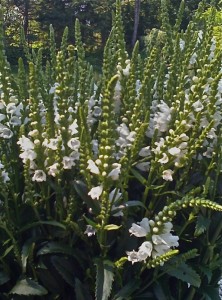 It's common name is "obedient plant".
But I don't know … it doesn't do anything I tell it to do.
It"s kind of like a white veronica with blossoms on steroids and the white is as pure and clear a white as I've ever seen.  Perfect filler for wedding work, I'm cutting it at around 30″ tall so you can use it for vase work, or, chop it down for bouquets or centerpieces.  Either way, it's stunning.  And if you have the nerve, supposedly you can bend the flowers any way you want and they stay put.  It's pink cousin will be ready for picking in a few weeks.