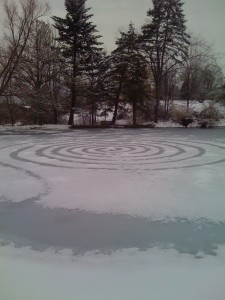 Things are definitely winding down on the farm now.  The ground is frozen like a rock.  Row cover is blanketing everything inside the hoophouses.   The peonies are asleep under a nice blanket of aged compost.
All is calm, All is bright.
Well, except for the few hundred remaining bulbs that still need to be planted.  How did we miss those? And then there's the mountains (literally) of mulch that need to be spread over all 4 acres of shrub rows.  And did I mention the seed catalogs?  We spend hours pouring over them looking for the next really cool flower that you might love.
We've passed the winter solstice now and days are getting longer again so, I know, Spring is around the corner somewhere.  Meanwhile, we're heading south to hit the beach and soak up some sun.
Thank you all for making 2010 our best year ever.  We're going to outdo ourselves in 2011.  Wait and see!  We've got some ideas that will knock your sock off.